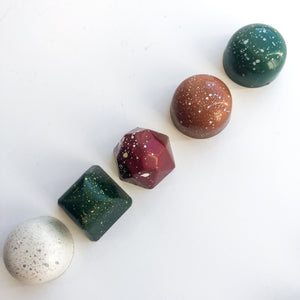 Product image 1

Product image 2
Our 5 piece boxes have been very popular at markets and are now available for shipping!  Perfect as a token of appreciation, a neighbor gift, hostess gift, a stocking stuffer, or for enjoying all by yourself!
Box #1 includes one each of the following flavors and has the colors of red, green, white, dark green and copper:
Eggnog—white chocolate ganache with nutmeg

Peppermint—a dark chocolate, coconut oil, and peppermint melt-away (DF)

Cherry Marzipan—a sour cherry pate de fruit and a white chocolate almond marzipan ganache 

Cinnamon Roll—vanilla "frosting", creamy caramel, and a biscuity, milk chocolate ganache 

Salted Caramel—our smooth and creamy caramel accented with Utah's Redmond's Real salt and rich vanilla 
Box #2 includes 
one each of the following flavors and has the colors of burgundy, antique gold, light blue, silver, and amber:
Pomegranate Cheesecake—festive pomegranate fruit gel on top a rich cheesecake ganache
Gingerbread—milk chocolate, butter, molasses, cinnamon, ginger, nutmeg, and cloves 
Hazelnut Crunch-delicious hazelnut gianduja with a roasted, candied hazelnut nestled inside (DF)

Almond Praline—toasted almonds, caramelized sugar, and Valrhona's Almond Inspiration chocolate.

Dark Chocolate Orange—orange zest, orange juice, and orange purée combined with rich dark chocolate ganache
*DF= dairy free **All flavors in this collection are gluten free ***All flavors are made in shared equipment in a commercial kitchen that also processes milk, nuts, tree nuts, soy, and occasionally gluten.
These are hand painted with colored cocoa butter and shelled with high quality couverture chocolate.  The chocolates are crafted without preservatives.  Store at a cool room temperature and enjoy within 3-4 weeks for best flavor!