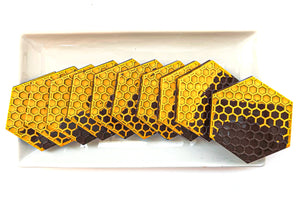 Product image 1

Product image 2

These delicious Honey Caramel Bars feature local honey from Holladay, UT!  The soft, flavorful caramel is enclosed in a dark chocolate honeycomb bar painted with a golden colored cocoa butter and decorated with a honey comb pattern on the back side as well.  Utah in a bite!
Bars are packaged individually.  
*If ordered for shipping, we will do our very best to package them carefully.  However, with their fragile nature, we can not guarantee that they will not crack during the transit process. Thank you for your understanding!